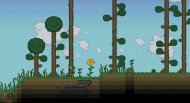 We showcase Minecraft texture packs from time to time and have yet to do a Terraria texture pack. Mainly because it's not as "core" of a feature in Terraria as it is in Minecraft but there are several texture packs in the Terraria Forums Texture section.
This is a texture pack by Levaunt and gives the game a "Zelda" feel.
The texture pack changes every graphic into something reminisce of The Legend of Zelda and is twice the resolution of the default texture pack resulting in a smoother more detailed game. Installing the texture pack is as simple as dropping some files in your Terraria folder and running the new Terraria Texture pack exe to launch the game.
Personally, Zelda aside, I love the new doubled resolution and smoother textures in the game. I have a relatively fast computer so I can't vouch for it's impact on a middle-grade or slower computer. Grab it from the Zelda thread on the official Terraria forums and follow the instructions for installation.