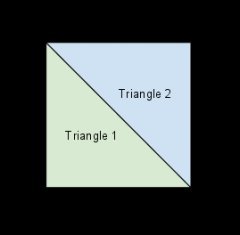 In the previous two articles (article 1 and article 2) I have tried to introduce OpenGL ES on android. Now let's take it further and build on them. In this article we will create a billboard (which is a square) and we will apply a texture onto it. A texture is nothing more than a bitmap image. When we work in 2D we set the Z coordinate to 0. We'll cover 3D later. This is very useful to use in 2D games and is the preferred way to display images using OpenGL. It is very fast indeed.
In the previous articles we managed to display triangles. How to display a square then? A square is composed of 2 triangles.
The following diagram shows you this: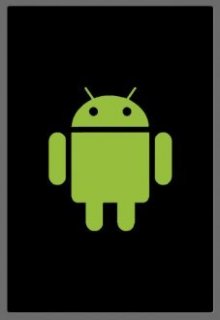 Square from Triangles
There is an interesting thing to note here. The square is ABDC instead of the usual ABCD. Why is that? Because of how OpenGL chains triangles together.
What you see here is a . A triangle strip is a series of connected triangles, 2 triangles in our case.
OpenGL draws the following triangle strip (which is a square) using the vertices in the following order:
Triangle 1: V1 -> V2 -> V3
Triangle 2: V3 -> V2 -> V4
Triangle Strip
It draws the first triangle using the vertices in order, then it takes the last vertex from the previous triangle and uses the last side of the triangle as the basis for the new triangle.
This also has benefits: we eliminate redundant data from the memory.