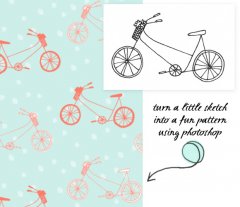 A couple years ago I found a really helpful tutorial for (also known as tiled or repeat patterns) from . Since then the technique is something that I've played around with from time to time (though not as much as I would like), and it seemed like high time that I finally shared the link to the tutorial with you guys. Sorry for the holdup.
With experimentation I'm hoping to progress and eventually create more elaborate patterns, but for the time being I'm just having fun with it.
And this one I made using a scanned painting of the Eiffel Tower that my daughter created last night. She doesn't know that I used her artwork to make a pattern, so I'm going to surprise her with it later today!
And fear not, you don't even have to be handy with a paintbrush to create an awesome pattern in Photoshop. Sometimes something as simple as dots on a page can be lovely too! I think this one kind of looks like a snowstorm or the pattern on a bird's egg. I hope you have a chance to try your hand at pattern making soon! I'd love to see your results if you do. xo Ez