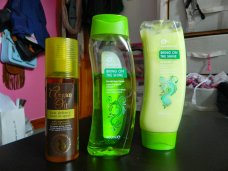 This post is going to be a tutorial on how to get beachy wavy hair. It such a quick and easy way to get perfect mermaid waves that will be perfect for the spring and summer. Hope you find this useful!
The first thing I do is wash my hair using Morrisons own shampoo and conditioner. I find that they are just as good as herbal essences. This hairstyle would probably work better on day old or two day old hair as there will be more texture and it will hold the style longer. My hair is so thick and textured anyway it doesn't make much of a difference on me.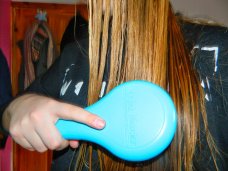 Before drying my hair, I spray a bit of Argan Oil Heat defence spray and brush it right through my hair from root to end to make sure it's all protected. As this style uses heat it's best to protect your hair as heat can be damaging.
I then just dry my hair. I have no specific way of drying my hair to be honest. Upside down, round and round.
I then roughly section my hair. I've sectioned my hair into 2 and then sectioned it into 2 layers. I've clipped all my hair on one side, apart from the bottom layer, so it's out of the way. This way it's easier to work with.
You are then going to begin plaiting your hair. I have so much hair and it's really thick so I find this style works best on me with multiple plaits. Others may find they don't need to section their hair. 2 plaits, one on each side, may be fine for you.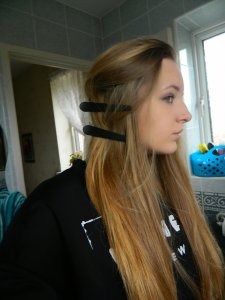 o make it look more natural. For the bottom layer I use 2 thicker plaits and then thinner ones on the top layer and nearer the front. Once I've plaited the bottom layer and secured them with hair bands I then unclip the top layer and make 2 more plaits.I then take each plait and pull at the strands to make them a bit looser which will make the waves more natural and less tight.
Once I've loosened all of the plaits I then take my straighteners and run them over each plait. The heat makes the hair take the wavy style that would be created if you left your hair in plaits all day. You could do this style by plaiting damp hair at night and sleeping with them in. This is a good way to do it if you don't want to use heat.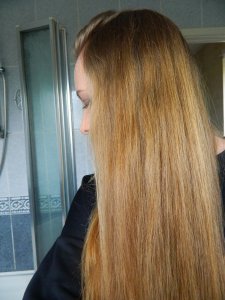 I sleep in plaits my hair doesn't dry properly because it's so thick.
Once you've straightened each plait, take out the hair bands and leave the hair to cool for abour 5 minutes.
Then you can then undo the plaits and you will be left with perfect, mermaid, beachy waves. I then spritz my hair with a bit of the Umbero Giannini Hot Styler Hairspray to keep the style in place all day.