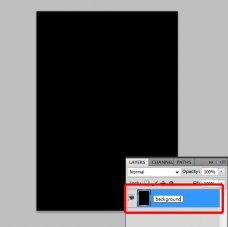 How to Design a Beverage Ad Using Effects in Adobe Photoshop
You can use a number of image manipulation techniques to enhance the image in Photoshop. We will use different stock photos and brush packs to manipulate the image of a simple bottle and add a fresh splash to it along with a number of other effects.
Follow this step by step tutorial and learn how to design a beverage ad in Photoshop.
Step# 1 – Open up a new document and fill the background
First of all, open up a new document, keeping A4 for the size and a transparent background. With that done, fill the background with black color. After that, you can name the layer "background".

 
Step# 2 – Cropping out the bottle from the background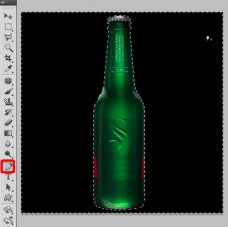 Next, we will open up an image of a bottle. You can easily find such stock photos by searching at sxc.hu. Once the image has been imported, use the pen tool to make a selection around the bottle and separate it from the background. You can use the polygonal lasso tool for this as well, but for this tutorial we will stick with the pen tool. Once the entire selection has been made, there are many ways in which you can separate the bottle from the background. For this tutorial, we will make an inverse selection, by pressing CTRL I, and removing the background.
Now bring the image in the project you are working on, increase the size and position it right at the center of the canvas. Do remember to rename each layer as you progress.
Step# 3 – Making a reflection
To create a reflection of the bottle, we will duplicate the original image, press "Ctrl+T" to transform the image, right click and select the "flip vertically" option from the menu. With that done, we will position the image right at the bottom.