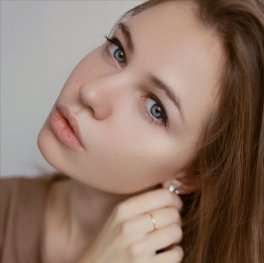 by rocket
Sometimes, when we want to add some textures using of Brush, some of us are creating and save in Define Edge Preset to make a new brush. Then it's time to brush the in the skin and combing a few adjustments and changing of Blend Modes to make it realistic. But here in this written Photoshop tutorial, there is one process or way on how to add a skin texture with easy and simple ways to finish the activity. So what are waiting for? Get ready your Photoshop. Let's get started!
Tutorial Details
Apps Used: Adobe Photoshop CS6
Difficulty: Beginners/Intermediate
Estimated Completion Time: 8-10 minutes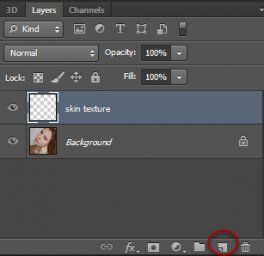 This is the final result.
Step 1.
Open any images you want to try in this tutorial
This is the image that I will use for this tutorial, it is owned by NerySoul that you can download this in Deviantart. As you can see in her skin texture, skin color and having a little bit texture in her face are pretty awesome. So here, we will add some texture in her skin to look a little bit rough.
Step 2.
Create a new layer and use Paint Bucket Tool
This time we need to create a new layer to apply and form noise filter later. You can hit the button below of the layer list like what's inside of the red circle on the screenshot below or just press Ctrl + Shift + N (WIN) / Cmd + Shift + N (MAC) for keyboard shortcut. Right after that, rename the layer "skin texture".
Then right after that, use Paint Bucket Tool ( for keyboard shortcut). The Paint Bucket Tool fills adjacent pixels that are similar in color value to the pixels we click but this tool cannot be used with images in Bitmap mode.and paint it in the new layer with color #000000 (BLACK). Adjust the color in the foreground and set the color # in 000000 to see and use the Black color.