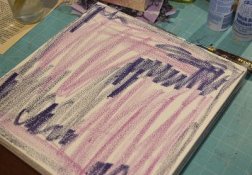 After some frantic CHA creating, I have taken a breather and created just for me!! I simply adore drawing these girls and extending my creativity. This time I thought you might like it if I photographed the process of the background. It is surprising how many layers go into my mixed media backgrounds, and at times the number of layers is a direct correlation between how many mistakes I make along the way! That is the joy of mixed media, if you do something that is a little off, you just keep going, a bit more gesso and you can start on a new layer.
So how do I start..... Well in a lot of cases I like to add a bit of a background colour to set the scene. I do this with either my Faber Castel Gelatos or my Caran deAche Neocolors. They are essentially the same but I have a lot more colour options with the Neocolors. On this canvas I used my Gelatos.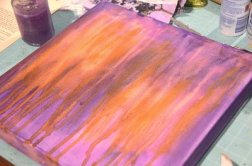 Step 1: Roughly colour areas with your gelatos. Yeah, this part is child's play and kind of looks like it too! Maybe I should just let the kids have a play with a couple of the colours next time and see where I can go from there. I used a combination of 3 purples - Lavender, Grape and touches of Metallic Grape.
Step 2: Use a wet wash brush to blend the colours. I blend the different areas of colour seperately to start with or else you just get a muddied mess. I added some Lemon after blending the purples and then kind of didn't like it as much but had to keep going. See told you mixed media is just about working with your mistakes.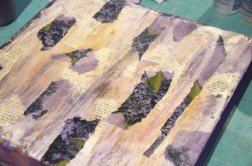 Step 3: This is the point that I start in on some more texture. So I tore up a few pages from an old book and used gel medium to adhere them to the canvas. Once on there I used a palette knife to swipe some gesso over the whole canvas to soften down the very bold background (I never intended it to be so dark!) I then went on to add some torn napkin onto the background as well.
Step 4: Then I go into some stamping for texture. I like to add this now before it gets too textured as I get better stamped images. I do not used a block as the canvas is soft, but instead put my hand behind the canvas to create a hand sandwich of the stamp and canvas to get a good image. I try and use a few differnt coloured inks as well, even though a lot of this will disappear later on, I do like to have it there for the random bits that show through. Stamps used were all Prima, many of them are quite old, such as the chicken wire and the text stamp but the doily is from Finn's Vintage Vanity line and still available.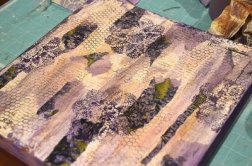 Step 5: Next part involves adding that deep texture to the canvas with a whole lot of masking. I start with gesso masking using the Prima Circles Stencil for some subtle aspects before using texture paste and masking. Make sure you completely dry each of these steps before adding the next layer so you don't squish your masked image. I have added Luminarte Polished pigment powders to the texture paste to colour it. For the Prima Damask masking I used Golden Nugget with a hint of gold acrylic paint to increase the gold intensity to the paste. For the large flowers, Crafters Workshop Stencil, I used two different colours of the pigment powders, Plum Blossom and Icy Iris.