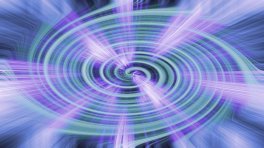 Tutorial By Jitin Verma. In this Abstract Wallpaper Tutorial, We'll learn How to create beautiful abstract wallpaper just in few minutes. Photoshop is a software in which we can create simple graphics also exceptional! Photoshop Makes it easy to Create and Customize your own abstract Graphics which can be used as wallpapers and other graphical projects, in which Filters Play an important role. The Best Part of this tutorial is that this is abstract which means, you have to use correct filter and your creativity in this. If you are able to unleash your creativity then your wallpaper will be looking fabulous than mine.
FINAL RESULT :
So Let's Start With this simple Tutorial :
Fast Forward Tuto! (Duration : 5 min)
Open New, then choose canvas size as your choice, Here 1366 x 768 .
Go to Filter → Render → Clouds
Go to Filter → Pixelate → Mezzotint → Short Lines ( Type of Mezzotint), Then OK.
Go to Filter → Blur → Radial Blur → (Amount = 100, Blur method = Zoom, Quality = Best)
Go to Filter → Distort → Pinch → (Amount = 100 % ), Then OK.
Now Duplicate the Layer (Background Layer), and change the blend mode of duplicate layer (Background Copy) to Lighten.
Select the Previous Layer Means Background layer and then Go to :
Filter → Distort → Twirl → Twirl angle ( -999 ) and then Ok.
For Colorize these layers, Go to Image (at top bar) → Adjustment → Hue/Saturation (Or Simply Press Ctrl + U )
Tick on Colorize Box, In this Hue/Saturation Panel and Change Values as what color you want.
The Same Colorize Process, you can do with the duplicate layer too, to make it more effective and attractive.
You Can Choose others filters too like, Ripple, Wave, ZigZag Etc. for different design and abstract wallpapers.
EXAMPLES OF ABSTRACT BY THE SAME METHOD BUT DIFFERENT FILTERS :
TUTORIAL IN DEPTH :
STEP 1 : To begin, go to Main Menu ( top of the screen) and choose New, New Document Dialog Box will be open, in which you can choose presets or in custom you can set width and height of the document or canvas. Here, Enter 1366 pixels for width and 768 pixels for Height. (You can Enter Any Value as according to your choice.) Other method is using the keyboard shortcut " Ctrl + N ". For More Details, follow the image :