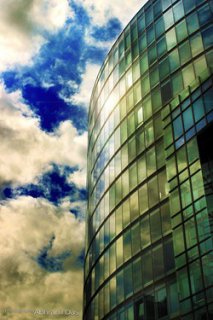 On the right is the original photo, of a building in Brussels, Belgium. On the left is the result after some hours of Photoshop by an amateur shopper such as me. You can click the images to see larger versions.
The major differences in the two photos are:
The edited image is much more detailed, especially the sky and its reflection. The texture of the clouds is now much more prominent and rich. Little of this texture is visible in the original photo, and it might even be hard for the uninitiated to believe that this texture information was at all contained in the original photo. But it was, and such information always is, and with some practice it can very easily and quickly be recovered and enhanced in Photoshop for a much richer look. The human eye gorges on detail. Give it as much as you can.
The image is much more colourful. The sky is much more vibrant, the clouds have a warm tinge, and the building itself has exploded into green and blue, very little of which is visible in the original photo.
The sun shining off the glass panels of the building is much more prominent.
Overall, a semi-realistic, computer-game style vibrance and brightness has been added to the photo, and the relative drabness of the original photo is completely gone.
The question now is, how were these results achieved?
I said at the outset that this is not a full-fledged tutorial, because a step-by-step instruction will be too arduous for me to write and probably pretty fruitless to blindly follow. A lot of editing comes from hunches, intuition and experimentation (which grows the intuition), so I would not encourage anyone to do exactly what I did. However, I could outline the general procedures I used.