1
Final Image Preview
In this tutorial we will learn how to create a grass background using quite simple vector techniques using Art Brush, Gradient fills and Symbols. Have fun learning our new Adobe illustrator tutorial!
Step 1
With the help of the Ellipse Tool (L) create an ellipse elongated in the horizontal direction.
Select the points A and B using the Direct Selection Tool (A), then remove them by clicking on the appropriate button in the Control panel.
Move the handles of the remaining points to the center of the shape, holding down Opt / Alt key.
Step 2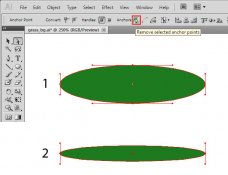 Duplicate the created object, and then slightly modify the shape of the new object by manipulating its handles.
Save two objects in the Brushes panel as Art Brush, without changing the default settings.
Step 3
Using the Pen Tool (P) create a new shape so that its upper points coincide with the points of the lower blade of grass.
Select the upper and lower shapes of grass blade, then take the Shape Builder Tool and holding the Opt / Alt key, remove the lower part of the upper shape.
Using this technique, create a new shape of the second blade of grass.
Save both grass blades, each one consisting of two objects, as Art Brushes.
Step 4
Using the first two Art brushes and Pen Tool (P), create a few curved segments, so that they looked like a bunch of grass. Adjust the thickness of the blades, changing the parameter of Weight in the Stroke panel.
Select all the grass blades, then go to Object > Path > Outline Stroke.
Step 5
As you can see, our grass blades have an excessive amount of points. Since our artwork will contain a large amount of blades of grass, it would be better if we reduce the number of points, which will eventually reduce the size of the vector file. Keeping the blades of grass selected, go to Object > Path > Simplify .... The parameters that are set by default are suitable for...