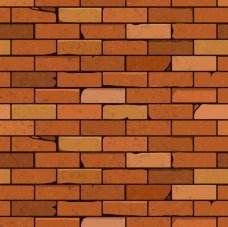 In this tutorial we'll learn how to create a brick seamless background using the Pattern Editing feature, which is available for the users of Adobe Illustrator CS6 or CC. For more realistic effect we use some manual techniques, create and apply a vector texture.
Tutorial Details
Program: Adobe Illustrator CS6 – CC
Estimated Completion Time: 60 minutes
Difficulty: Beginner-Intermediate
Step 1
Start the Illustrator, then create a new document (File > New…). In the new dialog box New Document choose the Basic RGB profile.
Step 2
Take the Rectangle Tool (M) and click on the artboard. In the opened dialog box enter the width and the height of our rectangle – 150x100px. Fill the object with dark-orange (R = 179; G = 89; B = 36)
Step 3
Keep the rectangle selected and go to the Effect > Distort & Transform > Transform… to set the value of the horizontal shift and a number of copies, then click OK.
Repeat the effect, but this time with different values. Go to the Effect > Distort & Transform > Transform…, set the value of the horizontal and vertical shift, a number of copies and choose the Reflect X option.
Step 4
In order to be able to work with each rectangle, go to the Object > Expand Appearance…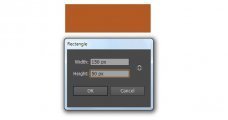 Recolor some of the bricks into darker and lighter shadows of the main color. To receive the shades of the main color quickly, switch to the HSB color mode in the Color panel. Adjust the color by moving the Saturation and the Brightness sliders.
We receive something similar to what is indicated on the figure below.
Step 5
Select all the bricks, then go to the Effect > Stylize > Round Corners… and set the 5px radius.
And now go to the Object > Expand Appearance.
Delete the lower row of the bricks- we don't need it for the seamless background creation.
Step 6
Select all the created objects, then go to the Object > Pattern > Make, which switches us to the Pattern Editing mode.
Set new values for the width and height of a tile, which are 775x440px. This action removes extra space and arranges properly the bricks of our seamless background.
Step 7
Create any rectangle with dark-brown fill.
Place it underneath all the bricks; to do so, go to the Object > Arrange > Send to Back or use Command/Ctrl + Shift +] shortcuts.