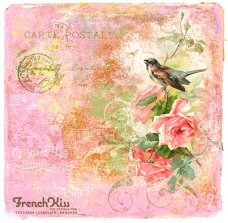 I was editing this texture scan of a monotype print I made (with a Gelli plate) when I got a bit distracted and started playing! It's another good example though of using Photoshop grunge brushes in the layer mask.
I've used various grunge brushes on this digital collage to mask and age the various elements.
Detailed Views
You can see in this detail the cracks and weathering on the vintage bird postcard layer. I also used a grunge brush to mask out the edges of the postcard and to add a splash of green color behind the roses.
This larger detail of the flourishes really shows the aging and distressing. Without this treatment, the flourishes don't look as integrated.
Here is the layer mask for the grouped flourishes. The brush used here is one of my favorite grunge brushes and is a part of my Free Photoshop Grunge Brushes.