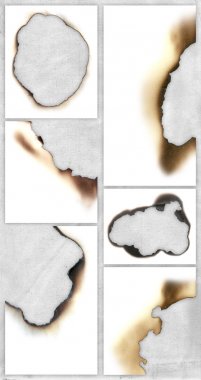 6 Free High Resolution Textures: Burnt Paper Edges
I literally risked my life to bring you this week's texture pack and I have charred fingers to prove it! Grab this free set of high resolution burnt paper textures to incinerate your designs, perfect for giving pages an antique appearance or creating an old treasure map. Each burnt paper is available as a high resolution JPEG or a PNG file with transparency. With a few simple steps you can overlay these textures onto your designs and create a realistic burnt edge effect.
This free set of textures contains six authentic burnt paper edges. These aren't Photoshop effects, I set alight various paper materials then scanned and processed the results to create a set of high resolution design resources for you to use in your own artwork. Each JPEG file is 300dpi, so they're suitable for print use, while the PNG files have been exported with Alpha transparency to make it easy to add tatty edges to your own designs.
Use the Magic Wand tool to quickly select the "negative space" area of the texture, then erase this from your original paper layer.
Change the burnt edge texture layer to Multiply to render the white areas transparent. The erased edge of your original page will now have a cool charred effect.
Draw a selection around any excess areas of the texture and hit the delete key to trim it to size.
The final result is an authentic and realistic looking burnt page edge effect. Paint in some subtle shadows to give the impression that the scorched edges are lifting to really finish it off.
Feel free to download and use these textures in your own work, as always my freebies are for both personal and commercial use. If you like the look of these resources, a vote or share to help spread the word would be really appreciated (and would make burning my fingertips worthwhile!).